There are a lot of clients who have asked us for advice in relation to the property market. To assist clients, we give some clarity to the media reports and other information relating to the property market, and particularly in WA.
We have been asked by numerous clients on whether they should hold their property or sell, or should they buy another property?
Based on our research, knowledge of the market, and a variety of economic factors, we are of the view that the property market in WA is likely to improve over the next 18 months to two years, with rental returns increasing, and demand for property also increasing. We have not taken into account the policy that has been announced by Labor, if they win the next election.
This article goes into further detail on our views.
A lot of the media attention in relation to the property market relates to the national property market. There are a number of factors which affect the property market, including:
Interest Rates;
Bank lending, so not just the interest rates, but their willingness to lend;
Economic factors, including foreign trade, unemployment rates, retail sales and tax; and
Political factors, such as the recent announcements by Labor on capital gains and the ban on negative gearing.
On top of this, the economic background of each of the markets is different. Nationally, the property market includes:
NSW, which includes Sydney and the various regions;
Victoria, which includes Melbourne and the various regions;
Queensland, which includes Brisbane and the various regions;
South Australia, which is mainly Adelaide;
Western Australia, which is mainly Perth;
Tasmania, which is mainly Hobart;
Northern Territory, which is mainly Darwin; and
Australian Capital Territory (ACT) / Canberra.
Refer to Appendix for further details.
We provide some background on each of the economies throughout Australia and their property markets as follows:
1. Economically:
The economics in the mining and resource led states (WA and Queensland, parts of NSW and Northern Territory) are on the improve, with this driving a reduction in unemployment, particularly in WA and NT.
The economies in NSW and Victoria were driven largely by an increase in capital infrastructure spending by those governments as they have improved roads, power and other essential services.
The rest of the Australian economy is struggling, particularly with construction which has been dropping due to a limit of buyers. Banks have tightened lending policies in line with the Government regulation and international regulations on banking standards, which in turn has led to an increase in the requirements for banking customers to be able to obtain loans.
2. Interest Rates:
The Reserve Bank has come out and stated in recent policy that its main concern is to keep inflation under control, and also stimulate employment. A number of economists, including ANZ, are of the view that there won't be any rate rises in 2019 or 2020, as a way to assist the economy to cope with any softening, particularly in Sydney and Melbourne.
3. Political Agendas:
Unfortunately for WA, the political agenda is generally set in the Eastern States of Australia. Despite WA providing the majority of exports in terms of dollar volumes (mainly due to Iron Ore and natural gas exports), WA still has to dance to the national tune.
Time will tell if there is an effect on property prices from Labor's policies if they win the election (as we highlighted in a previous newsletter), with a likely decline in national property prices.
We are of the view that most people invest in property for the investment returns, and not just the tax benefits, as many of the politicians believe. But this could effect the property markets, which may mean that a recovery in the property market takes longer.
New taxes on foreign buyers of property have also been introduced. Across the country, each State and Territory has passed law which effectively increases the stamp duty on properties to be between 5% and 8%, depending on the location of the property. This has a limiting effect on demand.
4. Population Growth:
A major issue which affects the economy, and particularly in WA, is population growth. As the population grows, the demand for housing, be it rental or property ownership, increases.
There are already starting to be shortages in a number of trades and positions which relate to the mining and resource industries (not just mining and resource companies, but also the businesses which service those mining and resource companies).
In the last mining boom in WA, there were a lot of fly in, fly out workers, who were travelling from other states of Australia, and even New Zealand. But, with a lot more economic growth in those places this time around, there isn't a transient workforce available to assist the WA economy.
After the WA 2017 election win by Labor, Mark McGowan moved to remove Perth from being a region for migration purposes. That has put a hold on growth, as businesses are unable to bring in a variety of trades and skilled workers that are needed to assist the likes of Rio Tinto, BHP, FMG, Roy Hill, Woodside, Chevron, and Santos, as well as all of the junior mining companies and gold miners.
Unfortunately, this has forced a number of the larger companies to send engineering and drafting and design contracts overseas, as Australia does not have the capacity to undertake that work.
This has also been exacerbated by the decision to build the Metronet rail network at the same time as other states. For interest, there are a number of rail projects being undertaken in Australia currently, which has put a halt on the fly in, fly out workforce that existed in 2011 and 2012. A summary of the projects is as follows:
Melbourne – rail network – $14bn;
Sydney – rail network – $12bn;
Brisbane – rail network – $3.5bn;
Adelaide – light rail network – $1.5bn; and
Perth – Metronet – $4bn.
5. WA Property Market:
We have conducted some analysis of the property market in Australia and breaking it down in particular for WA. The Sydney and Melbourne markets, as has been touted in the media, have dropped by up to 20% in some suburbs, and are likely to stay flat until the demand for property increases in those markets.
Over the past 12 months, WA has gone from being the worst performer and having the softest property market, to now being ahead of the game.
The WA property market was starting to see some improvement in late 2017, and then started to cool-off into the 2018 calendar year, as concerns were being raised on the economy. From January to March 2018, a lot of new investment and expansion for mining and resource companies was announced, and commencement being undertaken.
In our view, the WA property market has already seen the bottom – as our further analysis below shows – and is likely to improve over the next couple of years towards the end of this calendar year (2019) and into 2020.
Rental demand has increased, with vacancies decreasing, and the rental rates have also started to increase. With an increase in rental returns, it is likely that the demand for property in WA will improve.
As is shown below, from information from REIWA published on 10 March 2019, the vacancy rate is reducing, and average rents are on the increase: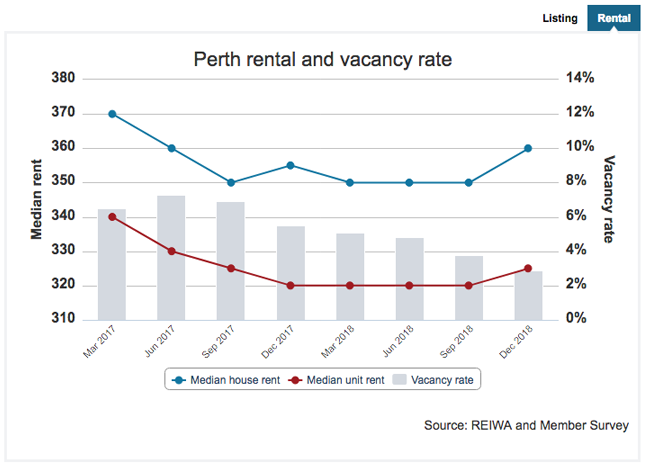 The number of days that a property has taken to sell is also on the decrease, with the number of listings (people wanting to sell) slightly increasing. Most sales of property, from around 2016 until more recently, have been as a result of forced sales of owners having to reduce their debt levels. This has started to decrease – as is shown – and is a sign of improving confidence within the property market.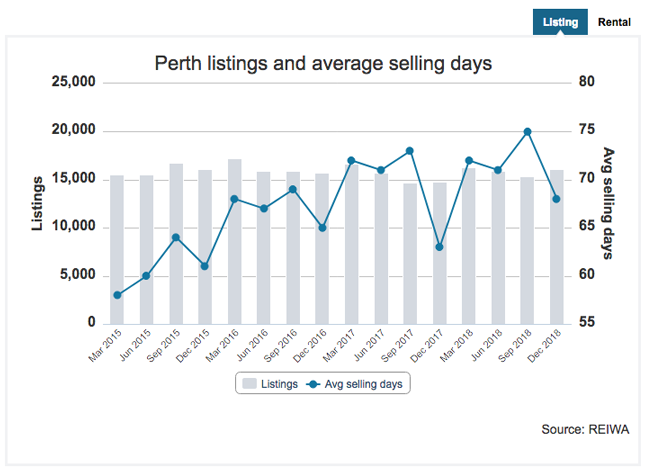 The property market over the last year has struggled with a decrease in the number of sales, and then the average price of the property being sold. This appears to have been reversed in the December 2018 quarter, and it is hopeful that the trend continues.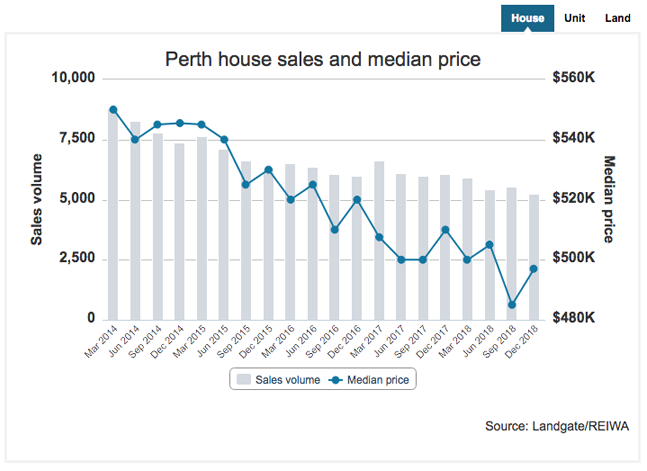 We have usually recommended clients hold when times are tough, and sit out the poor economic times (where cashflow permits) and then sell into a rising market. Property is generally an asset which needs careful consideration, as the transaction costs are higher than for other investments, such as:
Stamp Duty (which is between 4% and 6%, depending on the state or territory, and is more for foreign buyers);
Selling costs of your existing property, such as real estate agent commissions; and
Settlement costs and transfer fees.
Before making a decision on whether to sell your property, buy another property, or hold your property, you should weigh up all of those factors.
In Conclusion
In our view, the property market in WA will lead the other property markets over the next few years. We have stronger economic growth prospects driven by an increase in mining and resource activity, which is likely to continue. It is unlikely that we will have the boom that we had in 2011 and 2012, and the only inhibitor to growth will be the level of population influx to assist to drive demand.
Appendix – ANZ Stateometer Statistics March '18 – December '18
March 2018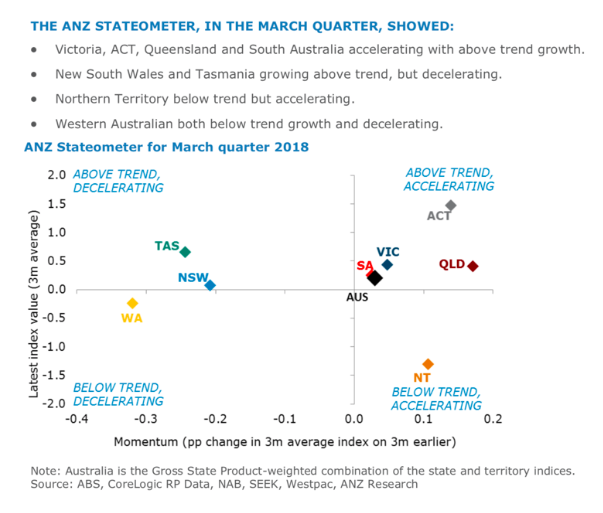 WA worst performing state, NSW already starting to decline.
---
September 2018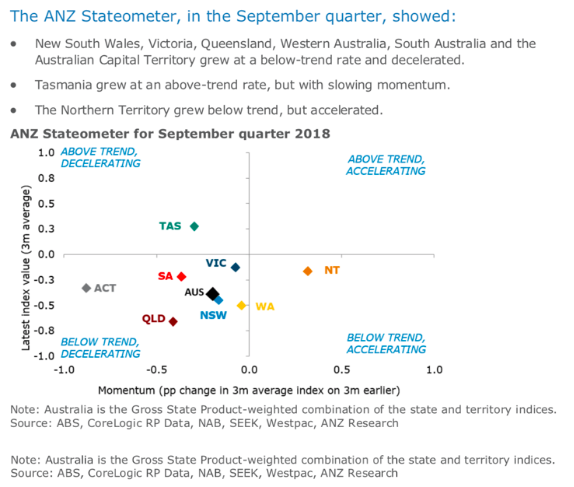 Victoria and NSW drop along with Qld, while WA is improving.
---
December 2018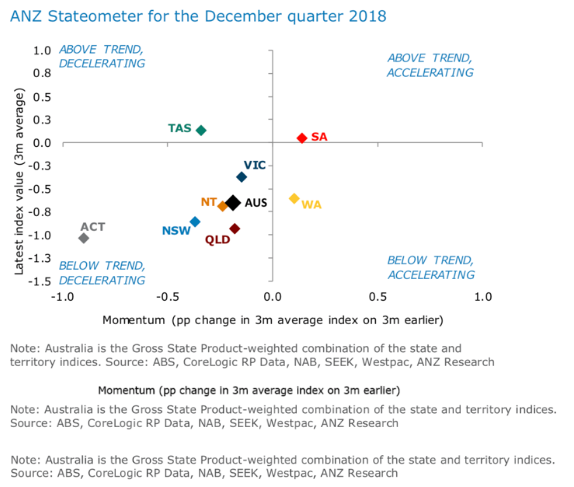 WA starting to improve and catch up to SA as the leading property state.
---
For more information, please contact us on (08) 9227 6300 or clientservices@austasiagroup.com
Important information and disclaimer
This publication has been prepared by AustAsia Group including AustAsia Real Estate Pty Ltd (REBA Licence No. RA1736), AustAsia Financial Planning Pty Ltd (AFSL License No 229454) and AustAsia Finance Brokers Pty Ltd (Australian Credit Licence No 385068).
Any advice in this publication is of a general nature only and has not been tailored to your personal circumstances. Accordingly, reliance should not be placed on the information contained in this document as the basis for making any financial investment, insurance or other decision. Please seek personal advice prior to acting on this information.
Information in this publication is accurate as at the date of writing, 19 March 2019. Some of the information may have been provided to us by third parties. Whilst it is believed the information is accurate and reliable, the accuracy of that information is not guaranteed in any way.
Opinions constitute our judgement at the time of issue and are subject to change. Neither the Licensee nor any member of AustAsia Group, nor their employees or directors give any warranty of accuracy, nor accept any responsibility, for any errors or omissions in this document.
Any general tax information provided in this publication is intended as a guide only and is based on our general understanding of taxation laws. It is not intended to be a substitute for specialised taxation advice or an assessment of your liabilities, obligations or claim entitlements that arise, or could arise, under taxation law, and we recommend you consult with a registered tax agent.