Whether you're a business owner or individual, we can help you finance all your vehicle and equipment requirements. Not only will we arrange finance, but we'll also ensure that from an accounting and tax perspective, you have the most appropriate product and facility in place to optimise your tax position.
Our diverse panel of lenders means we have access to a variety of products, helping to ensure that we'll be able to provide you with the most competitive and suitable facility.
Benefits of Financing Equipment
We believe, that depending on your needs and circumstance, there can be a number of benefits to equipment finance, such as:
Fast approval and settlement times;
Finance for 100% of purchase price, including GST;
No security taken from residential or commercial properties – stand alone facility;
Fixed interest rates and repayments for the life of the loan;
Repayment terms can be adjusted to suit nature of business/cash flow requirements – seasonal industries;
Leaves cash flow available for other opportunities;
Import finance available to fund overseas purchases.
Equipment that can be Financed
What sort of items can I finance under an equipment finance facility?
Shop & office fit outs;
Motor vehicles, boats, caravans – new & used;
Medical equipment;
Plant, equipment & machinery;
Aircraft;
IT equipment i.e. computers, printing, software etc.;
Manufacturing equipment;
Farming & agriculture equipment;
Why use AustAsia Finance Brokers?
The short answer: Because we will save you time and money!
Finance lenders offer a large range of options, that may or may not suit your circumstances or match your requirements. Perhaps a loan has an attractive rate, but only for an introductory period, or maybe only if you agree to a longer-term period, which may or may not be suitable for you. Some may require a balloon payment at the end etc.
Some lenders may offer better rates than what they advertise, depending on how they assess your risk profile, and some loans may only be available via finance brokers like ourselves.
Since we work directly with over 40 lenders including banks, independent or private finance companies and more, we can offer you a choice of finance solutions that are tailored to suit you, and ensure you receive the best rate you can at the same time.
And the best part of all of this is that there is no charge to you for our service, as we are paid by the lenders for our trouble.
So give us a call for a no-obligation quote, you may just be surprised at what we can do to help you.
See all of our Accredited Lenders
AustAsia Finance Brokers comply with the Federal Government's Best Interest Duty, ensuring that we always prioritise your best interests in everything we do.
Click below to see how we can help you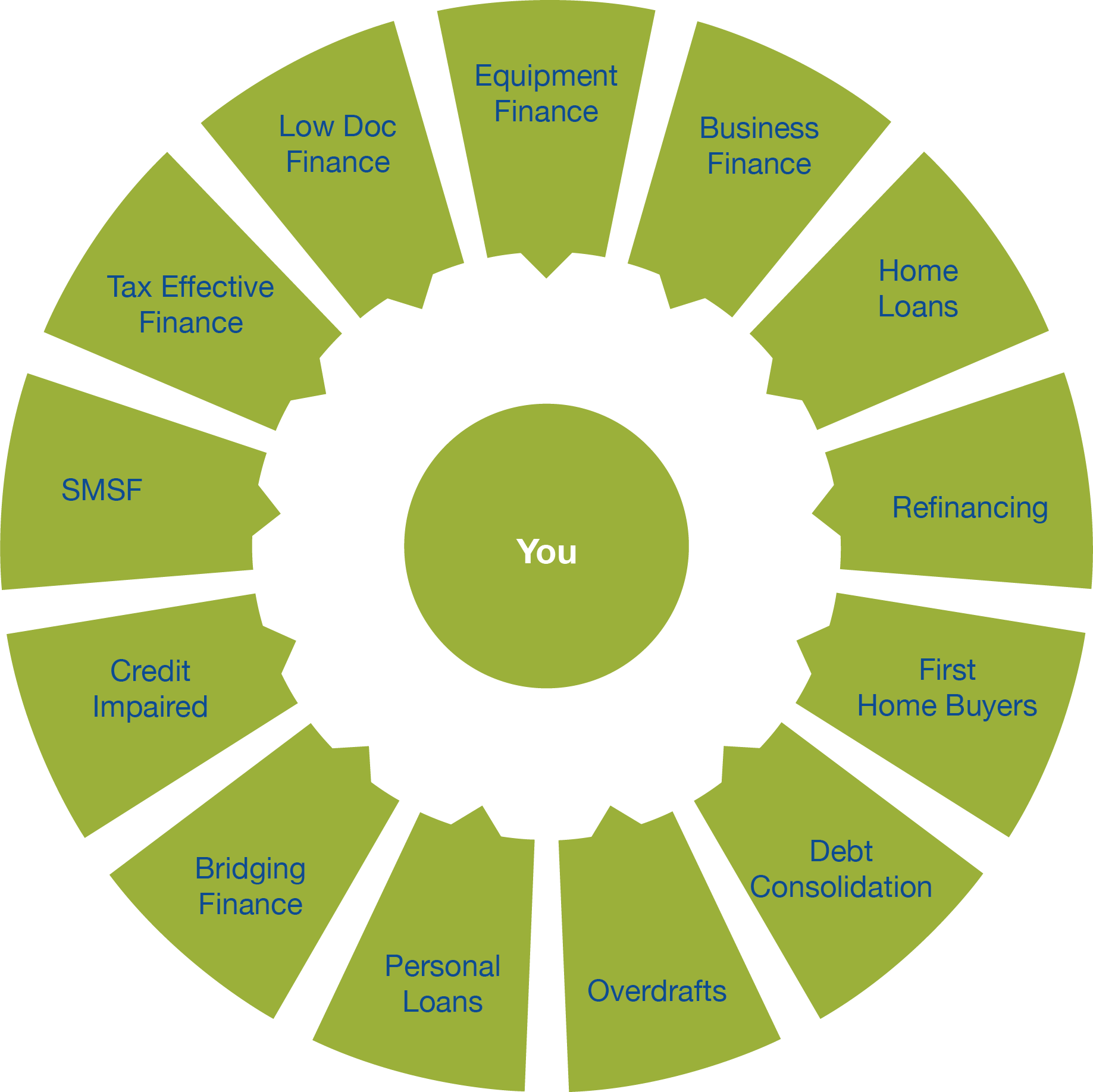 Equipment Finance (Personal & Commercial)
Personal Loans and Line of Credit
Non Conforming Loans and Credit Impaired