Life is risky and can be fragile. Everything can change in the blink of an eye, so the question remains, are we prepared for that to occur? Being injured, or worse, dying prematurely, are subjects we would prefer not to think about. By taking out insurance, you can afford to concentrate on living, knowing that if the worst happens, you and your family will be protected.
To have or not to have, that is the question
This is where having enough insurance cover can help. Life insurance is an essential component of your financial plan, as it offers a sense of security, by ensuring that your dependants are able to support themselves in your absence. A lump sum payout to your nominated beneficiaries in the event of your death, ensures that your dependants can pay off their liabilities and lead a decent lifestyle, without additional financial stress.
Get the insurance cover that suits you
So, it is imperative to have an appropriate cover to suit your needs, which is our specialty. This graph shows how the ideal amount of personal insurance cover can change over time, as you move through different life stages.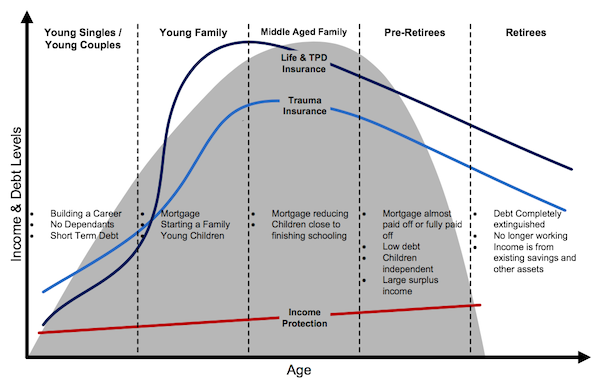 Our expert team can help you in identifying what type of insurance cover best suits your needs, to avoid being over or underinsured. We act in the best interests of our clients by acknowledging that insurance is not a "one size fits all" product. Based on our assessment of your finances and personal circumstances, we offer a customised strategy that best suits your needs.
We also provide guidance on Income Protection (to provide you a benefit if you are unable to work and support your family), Trauma (to provide you a payment in the event you suffer a terminal illness) and/or a Total and Permanent Disability (to provide you protection in the event you become totally or permanently disabled) to successfully meet your financial goals.
Making an insurance claim
At AustAsia Group, we can also assist you making insurance claims. Insurance claims can be stressful due to claim requirements and a myriad of paperwork with legal jargon. If you are suffering from the illness, injuries or grief, dealing with a pile of documents is the last thing you want to do. We are here to help.
During the tough time of any unexpected events, AAG can assist you with:
Review your insurance policy and ensure you are entitled to claim on your current insurance policy;
Liaise directly with the insurer and request any required paperwork;
Liaise directly with the hospital and request any medical reports or other documents to support the claim;
Complete claim paperwork and lodge the claim on your behalf;
Constantly monitor the claim process and keep you informed
Follow up with the insurer if needed;
Frequently Asked Questions
What is Income Protection?
Income protection replaces the income lost through your inability to work due to injury or sickness. There is generally a waiting period of between 15- 60 days on this insurance, depending on the level of cover and premiums paid. Income protection will only cover a maximum of 75% of your gross income for a maximum period of 2 years.
What is Trauma Cover?
Trauma provides cover if you are diagnosed with a specified illness or injury. These policies include the major illnesses or injuries that will make a significant impact on your life, such as cancer or a stroke. It is also referred to as 'critical illness over' or 'recovery insurance'.
What is Total and Permanent Disability Cover (TPD)?
TPD pays a lump sum to assist with rehabilitation costs, debt repayments and future living costs if you are totally and permanently disabled. TPD is often bundled with life cover. It is important to note that TPD is usually offered in 2 definitions, 'own' or 'any'. TPD 'own' means that you cannot work again in your usual or own occupation. TPD 'any' means that you cannot work in any occupation. For this reason, TPD 'own' cover is more expensive.
What is life / death cover?
Also known as 'term life' or 'death cover', life cover as the name suggests, pays a set amount of money when you die. This money will go to the people you nominate as beneficiaries on your policy.
Click below to see how we can help you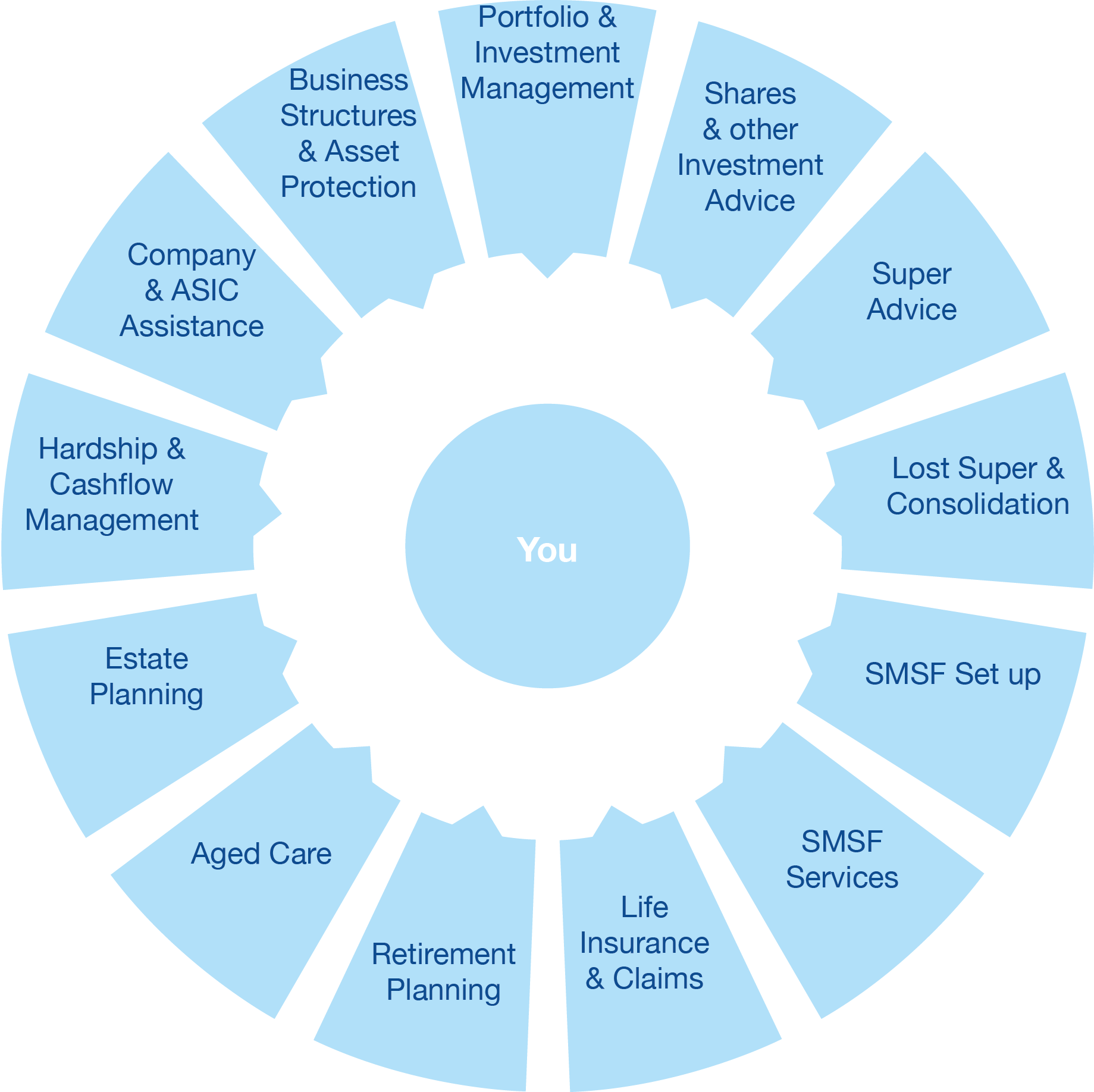 Portfolio & Investment Management Service and Advice
Shares & Other Investment Advice
Super Consolidation and Lost Super Assistance
Self Managed Super Fund (SMSF) Set Up
SMSF Administration Services
Life Insurance Advice and Claims Assistance
Retirement Advice and Planning
Aged Care and CentreLink Services
Estate Planning and Death Benefits
Financial Hardship and Cashflow Management
Company Maintenance and ASIC Assistance
Business Structural Advice and Asset Protection