Retiring in comfort doesn't happen by accident. It requires forward planning and strategic arrangements. For this reason, at AustAsia Group, we encourage our clients to think long-term and plan for the end game, even while still in their healthiest and most productive years.
Forward Planning and Strategic Services
We do this by asking the following two simple questions:
When do you want to retire?
What lifestyle do you want to enjoy when you retire?
Then we listen to what you say, what your vision for retirement is, and help you plan to make it possible. Some of the ways we assist in retirement planning include:
Assessing your access to CentreLink payments;
Helping you pay less tax;
Investigating a transition to retirement pension;
Advising on shares and investment properties – what should you keep, what you should buy and what you should sell;
Advising on whether you should keep your current house or downsize, investing the surplus of funds into your superannuation;
What about gifting?
Asking questions, you might not otherwise think of, like:
Do you need to consider an Aged Care Facility for you or your loved ones?
Download our brochure on Aged Care Planning & Assistance [PDF]
Having a retirement plan in place is vital in order to make your golden years align with your lifestyle vision. And the sooner you start, the easier it will be. Call us today to talk to one of our highly qualified advisors.
Click below to see how we can help you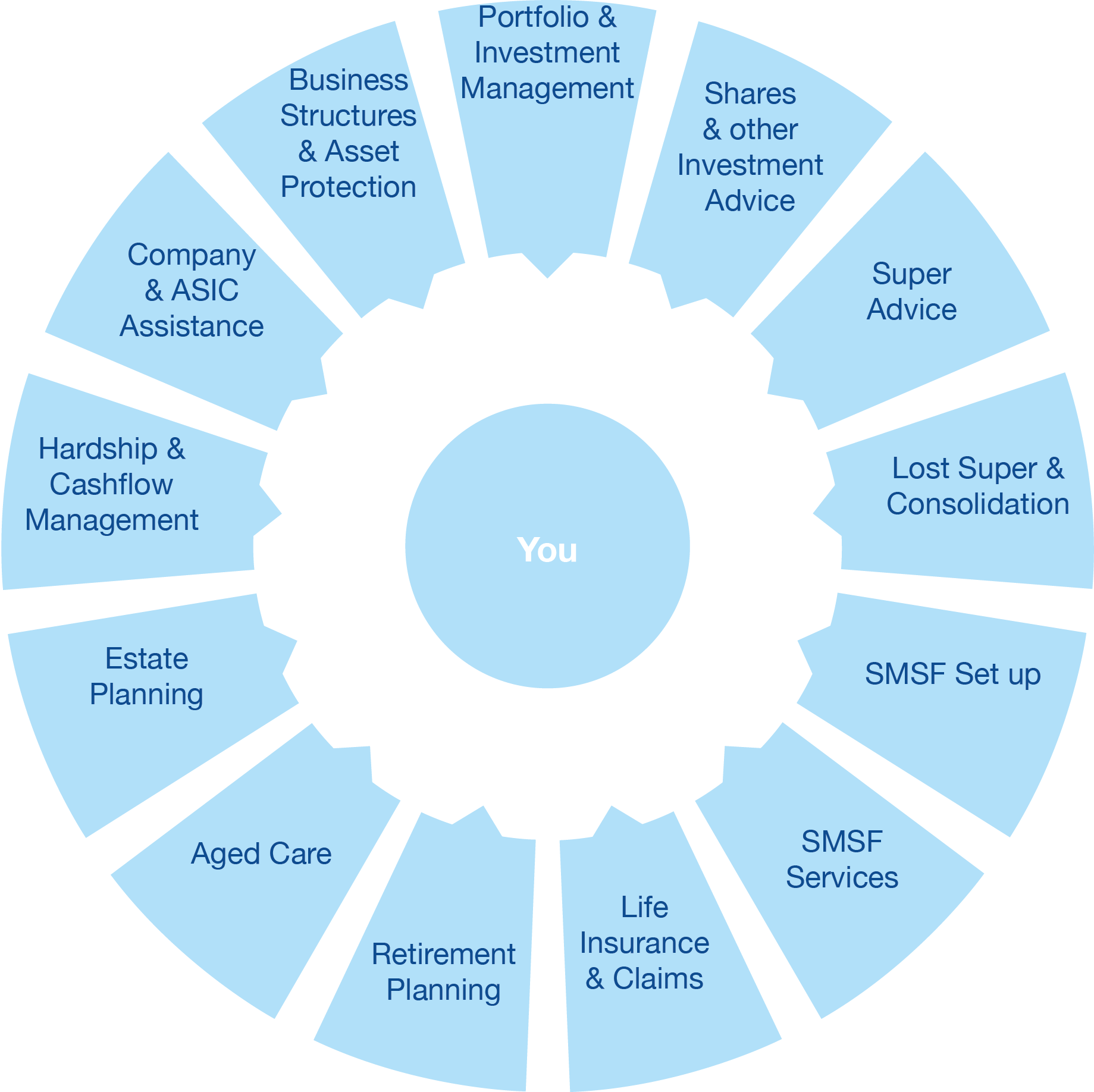 Portfolio & Investment Management Service and Advice
Shares & Other Investment Advice
Super Consolidation and Lost Super Assistance
Self Managed Super Fund (SMSF) Set Up
SMSF Administration Services
Life Insurance Advice and Claims Assistance
Retirement Advice and Planning
Aged Care and CentreLink Services
Estate Planning and Death Benefits
Financial Hardship and Cashflow Management
Company Maintenance and ASIC Assistance
Business Structural Advice and Asset Protection