Several clients have been discussing with us the issues of inflation and then interest rates and how it affects them.
Their primary issue is:
How does it affect my day to day expenses (called "Cost of Living").
If you haven't heard it yet, you will undoubtedly hear it soon, as this is already one major topic of discussion at the moment, with both sides of politics in the blame game for who will be the next PM!
You will see both sides blame each other for the increase in inflation, and then somehow that one side of politics or the other has been responsible for:
COVID – and the current delays in receiving cars, or building materials, or computer chips etc.; and
Oil prices – which have been driven by one Mr Vladimir Putin.
It would be great if any mere mortal could control the above items…
There is a lot currently going on around the world and many events over the last 18 to 24 months. To give some context, we thought we would help clients with a bit more background and assistance on how this could affect you, your family, your income, and your business.
A quick history lesson over the last 24 months
The COVID outbreak causes the pandemic, and some countries to enter a technical recession. Australia avoided recession.
---
Stimulus packages around the world to deal with not just the health issues and items (like vaccines, and hand sanitiser and masks) but also to get people spending money and provide assistance for those who have lost their jobs or had to take pay reductions.
---
Labour shortages in Australia (and in the first world countries), as the closing of borders, affected labour flow into the country.
---
Bringing jobs back onshore – we have seen several big businesses bring their call centres and support centres back onshore, as they experienced places like India and Vietnam (which are prominent outsourcing places) unable to work from home. The staff that was helping at a call centre could not work from home at their house in India (for example) due to poor internet and computer infrastructure. As such, businesses such as Telstra and the Big 4 Banks could not rely on their service centres to operate effectively. That has created more jobs in Australia with fewer people to do them.

---

Materials shortages globally – the scarcity in materials has been caused by a range of factors, including countries such as Brazil (which export a lot of iron ore and coal, like Australia) not being able to operate due to being ravaged by COVID.

---

With more people in Australia at home and not being able to travel or get out and do things, we saw the most significant savings for more than 30 years throughout the pandemic. Some analysts even think that the savings have been since the 1970s.

---

An effective war on Ukraine was declared by Russia (even though Putin is still saying that it is not a war), which has affected a range of factors, including but not limited to Oil, Energy, agriculture and other exports that Ukraine provides.
What about property and Investments?
With the pandemic, many so-called experts were saying that property, particularly in Australia, was going to go down by 40%. Property has, in fact, gone up.
Many people are now saying that the property market is overheated, but we don't think that either.
Property has increased, no doubt about that, but if you review a property that you paid for, say in 2002, it spiked up leading up to the GFC to peak in around 2007. Then, it dropped down a lot from 2007 to around 2013. Then, it went up a bit in 2014, before slumping again in 2016 and 2017. So, now we are in 2021 and 2022, and the property market has increased. Many people have only just seen property they bought in 2006 or 2007 go back to the price they paid for it. In our view, that can hardly be called a Boom!
With that as a background, we provide a few things for you to review and consider – including the usual investment psyche and the cycle of emotions, plus some questions and answers on inflation and interest rates, that we thought were very timely and written in more understandable terms.
Outside the usual "cost of living" that both inflation and interest rates affect, the two significant issues that inflation and interest rates affect are:
a) Investors – as inflation and interest rates affect profits and, therefore, dividends. It can impact different investments and businesses in different ways.
For most clients who are relying on their investments for dividend income, it may positively affect them in that interest rates may go up (albeit slightly); therefore, better income returns. Or they may affect profits, which brings profits down and, thus, dividends down.
b) Borrowers – as the cost of finance now increases. Many clients have home loans or business loans and have been asking about fixing rates or not fixing rates.
For investors, the current climate brings uncertainty. Some economists and analysts believe that the current situation is similar to the Iraq / Kuwait war that was in 1990. That war helped the US and the global economy out of the recession after the 1987 stock market crash. Other economists are of the view that this could be similar to a GFC, with high demand for renovation and homebuilding.
Our usual approach is to sit somewhere in between.
Interestingly, in the Cycle of Market Emotions poster from Russell Investments. the Iraq / Kuwait War in 1990 did not make it as "a world event" that caused emotion! (Click the poster for a better view)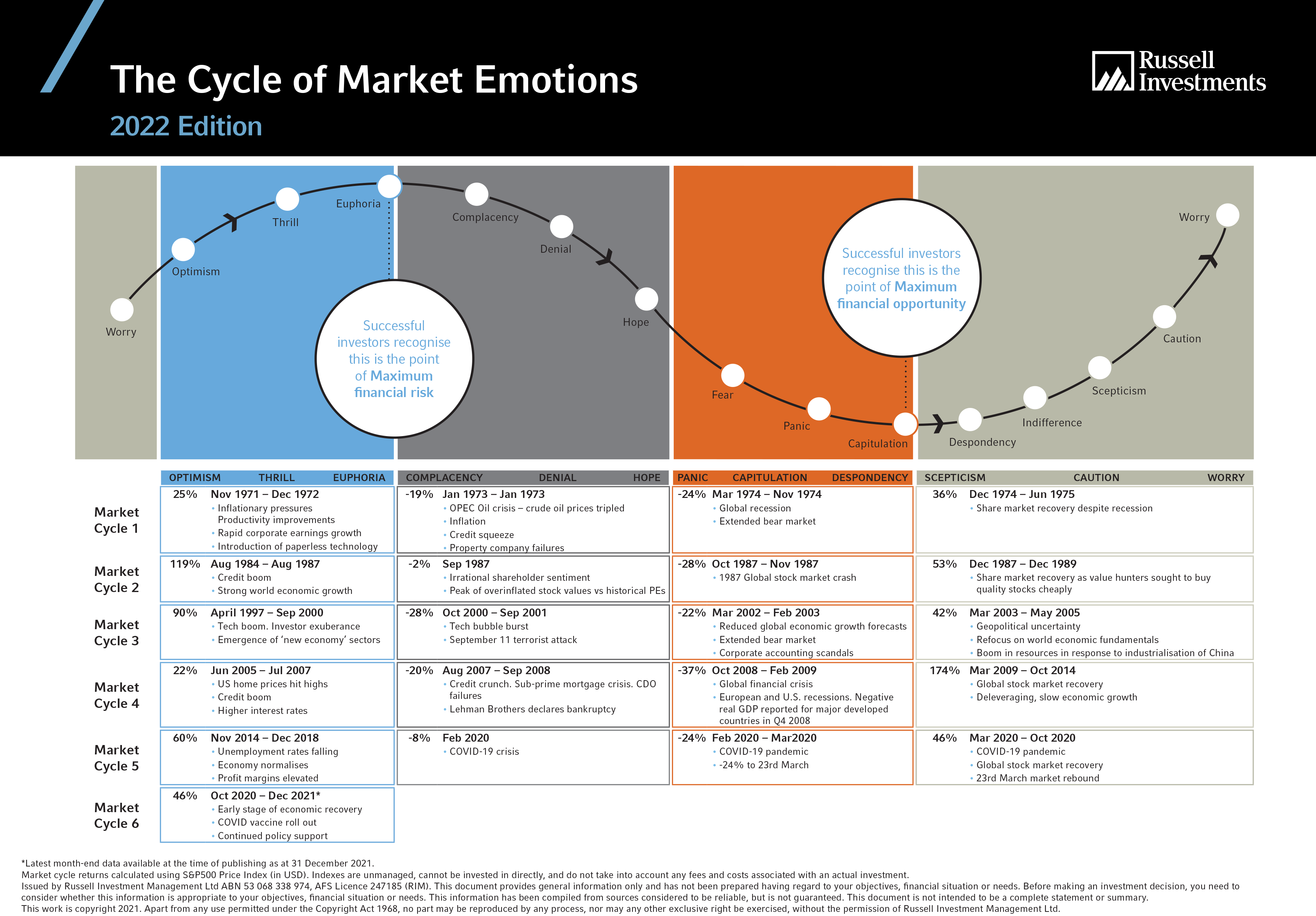 Note:
For borrowers, interest rates are typically not dictated by the Reserve Bank and its interest rate movements. Instead, various banks set interest rates based on the supply and demand of money.
For more on this and also how the Interest rate affects the stock market, see this article.

Questions & Answers extracted from the CBA
At 5.1 per cent, inflation is running at the fastest annual rate in 21 years.
Why has this occurred and what does it mean for interest rate settings?
We are here to help
As with everything, If you need any assistance with your situation, please contact our Client Care Team on (08) 9227 6300 or via our Contact Us Page for more information.