The Government announced its much touted Budget, with Mr Chalmers (the Treasurer) claiming to be an economic genius for delivering the first surplus by a Labour Government since Paul Keating in 1989.
We have a more detailed report here, but read our high-level analysis first.
What is a surplus?
In our view, you don't have to be an economic genius to be able to deliver a surplus in this current environment.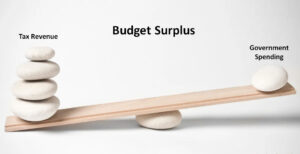 As we have been advising for some time, the economic background of Australia is still very strong.
To give a quick summary for an economy to be in Surplus, it is as simple as the equation:
Revenue (Taxes and the like) Less Expenses (i.e., Government Spending) = Surplus.
The current situation is like shooting fish in a barrel – we have the lowest unemployment rate since the 1970s. We have more people in the workforce (that is higher participation, likely due to the cost of living crisis, which is forcing more people to take up part-time work to be able to pay the bills). We have a shortage of people, with recent reports of more than 50,000 jobs that are still to be filled in the mining industry alone.
The tax increase has been a windfall for the Government on the back of:
A) Income Tax:
More people working means more people are paying taxes.
Higher rents also mean lower negative gearing losses (that is, the return on rental properties has increased)
Higher wages also mean more people in the next tax bracket, which goes up the more you earn.
The current housing prices are increasing, which means more capital gains tax.
On top of this, fewer people are on Centrelink welfare, so another win for the Government.
B) GST:
The more income that people have, the more they are spending. So, then there is more GST collected as the economy grows.
We just hope that Mr Chalmers doesn't replicate what the last Labour surplus was in 1989.
The following year in 1990, we had what Mr Keating classed as "The Recession We Have to Have."
Some clients weren't born when that occurred, but they will recall parents and grandparents remembering interest rates in the 1990s at 17%. Let's hope that history does not repeat itself.
Onto the budget – nothing to see here, folks!
The budget was really a budget about nothing.
The big change that we have noticed is that there is more money being allocated to the ATO and other regulatory departments to conduct more audits and reviews and data matching to make sure that the ATO collect all of their tax and GST and keeps people compliant.
We summarise a number of the areas as follows:
As with all budgets, any changes need to be approved and made law. This hasn't occurred yet, so we will wait to see what happens next.
Please contact our team if you have any queries or need assistance.
With compliments,
Simon Chesson
MD